Hi, I would like to send a message through the tsf_send_message stored procedure with a parameter that contains non-latin characters, such as Cyrillic and Thai. However, currently, these characters are all converted to question marks.
i.e. <TEXT>"ภาษาไทย Phasa thai"</TEXT> becomes <TEXT>"??????? Phasa thai"</TEXT>. 
Is there any way to allow using non-latin characters in parameters?
Thanks in advance!
Dries Fransen
Best answer by Mark Jongeling 21 July 2021, 11:06
Hi Dries,
That currently does not work as the tsf_send_message function uses the varchar data type. A small experiment shows that it is supported by the Win GUI when the function would use the nvarchar data type: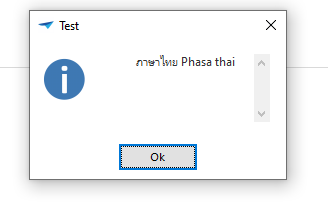 Could you create an Idea for this? That way we can plan it and maybe even make it possible from the 2021.3 version of the platform. Thank you!
(Link: Change the tsf_send_message parameter datatype to nvarchar | Thinkwise Community (thinkwisesoftware.com))
View original