I have recorded two test cases:
Add a specific record;
Remove a specific record.
The first one is no problem, but the second one wants to remove another record.
While recording I've included a step for filtering for that specific record before removing it. It seems that this filtering step is not recorded and reproduced.
Two questions:
Why is filtering not recorded?
How to remove a specific record if you're not able to filter on it?
Best answer by Mark Jongeling 17 February 2021, 08:53
Hi Roy,
I see, the Excel style filtering does not end up in the recorder. Not sure if that is intended or but if it is, it should be noted in the Documentation.
I will contact our development team and see if this is intended or not and create an issue for you in TCP accordingly.
In my test I didn't get a Go to row entry since my selection was already on that row. The values I fill in do not represent the Primary key, there is an underlying identity number. The Priority order number is just a integer.
When I do change my row selection and then go back to the newest row, it also ends up in an error because it's an identity:

What you can do, is set a Display column for the table. Then the Go to row does work like you expect: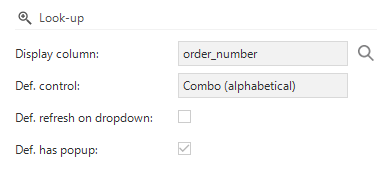 This way the GUI will not that the Identity value as Display column, but a column that is always the same in your tests no matter how many times you ran it.
View original