In my opinion, the prefilters Active- and Inactive users in the IAM users screen are misleading, what do you guys think?
I would have expected the condition behind the prefilter to look at whether the user falls between the start and end date of the account. 
In the example below, I would expect this as an active IAM user.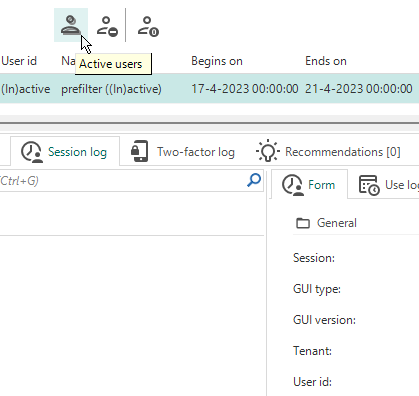 What the prefilter actually seems to do is look at the user's log sessions. 
 
from [usr] as t1
where ((exists (select 1 from use_log_session l where l.tenant_id = t1.tenant_id and l.usr_id = t1.usr_id)
)  and (exists(
   select 1
   from tenant ra1
   where ra1.tenant_id = t1.tenant_id
     and (dbo.is_authorized_tenant(ra1.tenant_id) = 1)
)
) )
  and (t1.[name] = N'(In)active ((In)active)
order by t1.[email]
 
If my interpretation of active/inactive in previous example is wrong I would expect the prefilter based on current sessions to filter for users "currently" having an active session in the application. This does not seem to be the case either, see the example below.   
 

I would like to hear how the filter intended and whether more people are unclear about it.