Because of an earlier issue (https://community.thinkwisesoftware.com/deployment-12/what-is-causing-the-clear-panel-message-in-the-panel-informatie-1030), I installed the latest web GUI (2020.1.14). Unfortunately that caused another problem. I am getting the following error:
Deze taak kon niet worden uitgevoerd omdat er een component mist. Raadpleeg uw systeembeheerder voor advies.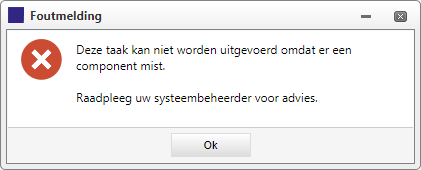 Well, I could ask my system administrator, but I don't think he will be able to help me with this, so I am asking you guys for help.
The situation is that there are a few tasks that are being executed managed by a process flow. The first one is a SP and the second one is a task that executes TSFReportMailer. I think the problem is with the second task.
Is this a known bug? What can we do about it?