Goal
Creating a drag and drop task for the first time can be challenging. This example will tell how to create a simple drag-drop task that will enable you to drag products into a shopping cart.
Solution
There are three components, namely the Source tab, the Target tab and of course the Drag-drop task. Assuming the tabs are already present, we will focus on making the task and setting it correctly.
Create a task that has the Primary Key of the source tab and the target tab. Connect it to the Target tab on the Primary key columns. In Subjects, navigate to the Source tab and create an entry in Links → Drag-drop. Enter for the Drag-drop parameters (at least) the Primary key columns of the Source tab. These are the parameters that get filled with values from the SOurce tab. Set up the drag-drop interaction and you are good to go. Enable def. drag-drop enabled if needed at the Settings tab in Subjects.
Result looks like this: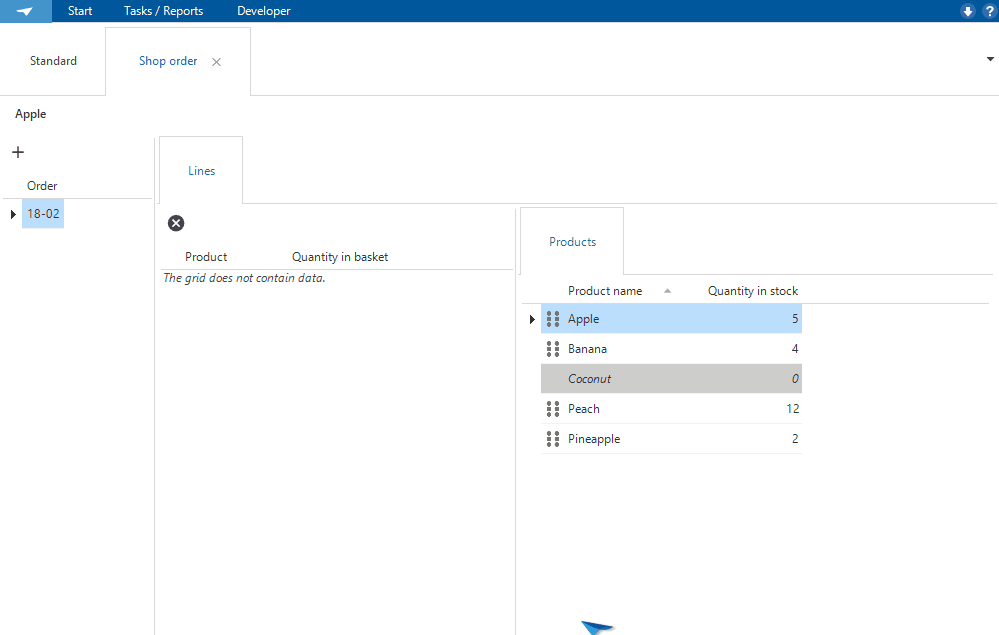 Code used for this example:
--Product not in shopping cart yet
if not exists (select 1
                 from shop_order_line sol
                where sol.shop_order_id = @shop_order_id
                  and sol.product_id    = @product_id)
--and at least a quantity of 1
and @quantity_of_pick > 0 
begin
    --add to cart
    insert shop_order_line (shop_order_id
                           ,product_id
                           ,quantity_in_basket)
    select @shop_order_id
         , @product_id
         , @quantity_of_pick
end
--Product already in shopping cart
else
begin
    --Update the quantity by adding the picked amount
    update sol
       set sol.quantity_in_basket = sol.quantity_in_basket + @quantity_of_pick
      from shop_order_line sol
     where sol.shop_order_id = @shop_order_id
       and sol.product_id    = @product_id  
end

--Update the stock
update p
   set p.quantity_in_stock = p.quantity_in_stock - @quantity_of_pick
  from product p
 where p.product_id = @product_id