E-Learning is now Live!
From now on you can use our E-Learning program.
You can go to Learn via
https://thinkwisesoftware.docebosaas.com
. Here you can login with your Thinkwise account. In the E-Learning environment you will find various
Learning Plans
that help you to work with the Software Factory (SF) and the Intelligent Application Manager (IAM):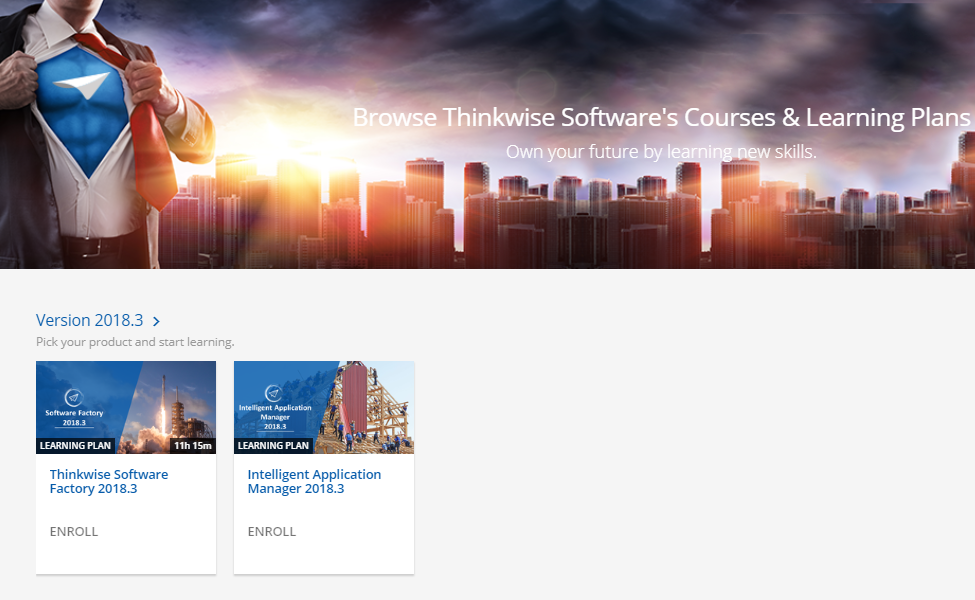 Objectives of E-Learning
Thinkwise is growing fast and the number of Low Code Developers who work with the SF are also growing. Both at Thinkwise and at our customers there are more and more people who need training for the Software Factory (SF), the Intelligent Application Manager (IAM) and SQL. Our customers are becoming more and more international, so it is becoming increasingly difficult to provide classroom training for everyone.
Another growing need is that training can be followed at any time. The best time to follow training is exactly before you want to start working with the platform. Our classroom training courses are scheduled via an open schedule. This means that certain training is given once every 2-3 months. It is therefore logical that that does not always fit perfectly with the start of a project.
So in short, the scalability of training courses and Just in Time Learning (JITL) are the two main objectives for Thinkwise.
To achieve these objectives, we have chosen to set up an E-Learning program. Through this program, a developer is able to train himself in the SF, IAM and SQL. The possibility to follow classroom training remains. In that case, the E-Learning can be used as a reference. Participants can decide for themselves when they want to follow the training and with which intensity.
Because the E-Learning program is only partially finished, for the time being, you still need the classroom training for complete training of the SF and IAM.
Learning Plans for SF and IAM
A Learning Plan contains a set of courses that all together form a complete training. For example, Software Factory 2018.3 is a learning plan. When a new version of the Software Factory is released, it is likely that there will be a new Learning plan, Software Factory 2019.1.
The Learning Plans for SF and IAM are developed entirely by Thinkwise. They consist of various modules. As you can see below, some are still in development. In the upcoming months, they will also become available.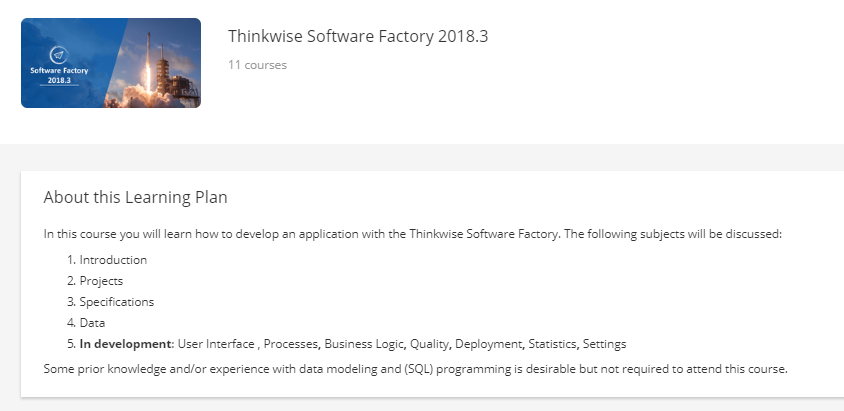 A Learning Plan is divided in modules. The purpose of these modules is to provide structure in the underlying courses, so each module contains a number of courses.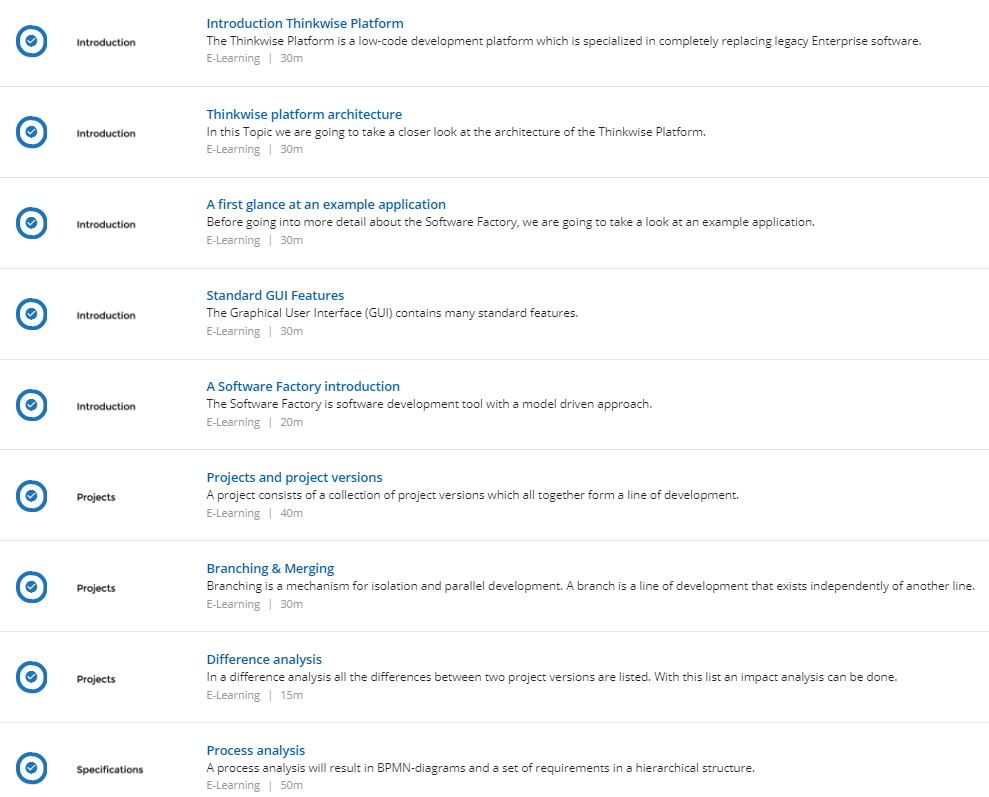 Each course has training material. Courses for SF and IAM have the following structure:
Theory videos
Instruction videos
Exercises
For example:
In a
Theory
video you will learn what a certain subject is and what its goal is.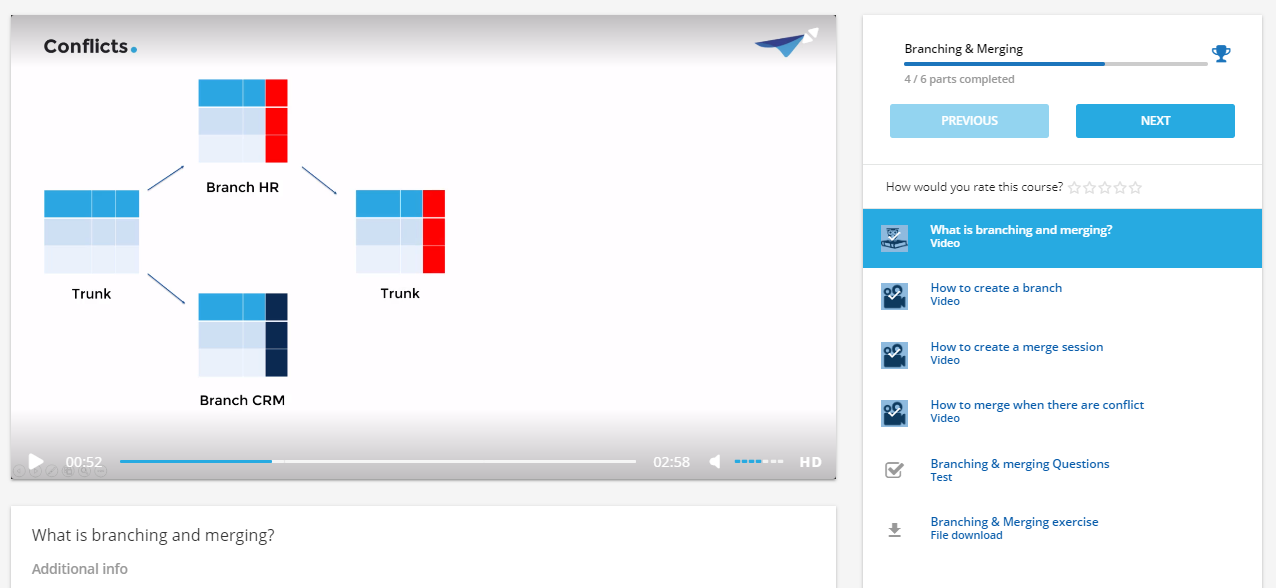 In an
Instruction
video you can see how to do a certain action in the SF. Of course the action is related to the subject from the theory video(s).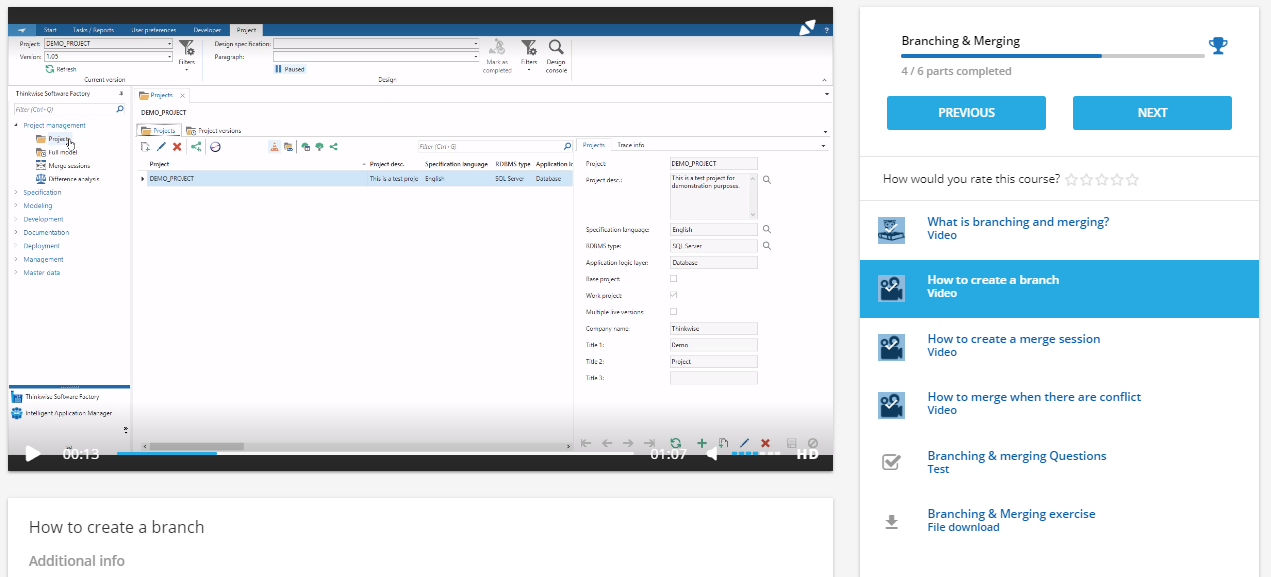 The exercises will test your knowledge about the subject you just studied:

Learning Plans for SQL
The SQL Learning Plans are built up differently as the videos are made by different suppliers. The exercises were made by Thinkwise and largely correspond with the assignments from the class room training. The current training material is almost the same as in our class room training "T-SQL Programming for Enterprise Solutions". In the upcoming months, some Learning Plans will be added with subjects from "Advanced T-SQL Programming for Enterprise Solutions".
If you want to follow a training, you can press "Enroll". After this you are a participant of the training.
Good luck studying!